Virtual Night at the Museum Fundraiser
Join us via ZOOM for a fun & free virtual night at the museum, complete with camaraderie, collections & cocktails, to raise funds for GHM!
The event will start with a custom cocktail lesson with Vince from Niche Restaurant.  Purchase your custom Old Fashioned GHM cocktail kit for $15 each so you can follow along and make it for yourself.  Kits include all the ingredients to make the cocktail at home, a plastic cup, paper straw, napkin, and an after-dinner mint.  They will be ready for pickup the week of the event from 12 p.m. to 5 p.m., Tuesday, Wednesday, or Thursday, September 15, 16 or 17 at Niche, 14 South Third Street.  Thank you, Niche Restaurant for donating the proceeds to GHM!
GHM will share a brief presentation on the progress of several museum projects:
IMLS Grant - The moving of thousands of objects from the collections and archives storage areas to install high-density mobile shelving units thanks to a $162k grant from the Institute of Museum and Library Services.

 

Story Booth - The design and installation of a Story Booth in the Main Gallery for visitors to record their Geneva stories.  Thanks to donations from the community, the booth is in the design phase and will be installed and ready when the museum reopens.
Artist in Residence - Geneva artist, Dennis Gramlich, is creating paintings of Geneva scenes in our Gift Shop window from 2:30 to 4:30 each Wednesday and Friday.  He donates all of his art and originals are available for sale on the museum website, all proceeds benefit GHM.
Accreditation Update - GHM passed the American Alliance of Museum's Core Documents Certification to achieve national accreditation.

 

Only 22% of American museums are nationally accredited.
Become a Geneva GEM by Giving Every Month, to provide a regular stream of support for the preservation and education of Geneva's wonderful history.  For a monthly donation of $35 or more, you will become a GHM Settler donor and receive a unique designed keepsake pendant from State Street Jewelers - a sterling silver custom 20 MM GEM pendant with beveled edge and enameled teal inlay on an 18-inch sterling silver cable chain. (Value $150, limited supply).  Read testimonials from current Geneva GEMs to learn why they support GHM.
Why we are Geneva GEMs...
"I choose to participate as a way to help honor and preserve the history of this community.  A strong community believes and learns from its past in order to grow and foster its future.  My donation may not be large but it is consistent which allows the Geneva History Museum to have some amount of financial stability."    
- Kelly Griffin Vass
"Contributing every month, rather than in a lump sum helps GHM budget, knowing that a specified amount is coming each month on a regular basis."
- Lynn Landberg
"We are GEMs at the Geneva History Museum because we believe our museum is a "Jewel" in the City of Geneva.  Contributing on a monthly basis is most helpful for the museum in their budgeting process and is beneficial to us as a household in our family budget.  So, PLEASE join us in becoming a GEM."
- Colin & Glorianne Campbell
"Geneva History Museum is a growing treasure chest filled with documented memories! Supporting the talented staff in both preserving past stories and recording present day happenings is important to us. Donating automatically, on a monthly basis is easy, and helps our budgeting as well as providing consistent income for the museum."
- Craig & Joyce Elliott
"All of us who care about our community and seek to share and preserve our history are thankful for the incredible work being done by the staff and volunteers at GHM.  Our museum has evolved into one of the most recognized small town museums in the country!
Writing checks, addressing and mailing envelopes is always appreciated, but today electronic monthly payments and particularly payments from retirement accounts, makes this the easiest and most cost-effective way to support GHM.  Become a GEM today!"
- Gary & Joan Hedge
"GHM is one of the Crown Jewels of Geneva, so I am very happy to be one of its GEMs.  Giving Every Month is a great help to the museum, and it is certainly a help to me.  GHM takes care of the donation; and I can relax and enjoy the museum.  I am sure you will appreciate becoming a GEM, and the museum and you both benefit."
- Charys Wheeler
"History, at any level of our experience, is important to enable us to know who we are as a community and as individuals.  As a lifetime member of this community of Geneva, I know that my identity and that of everyone who has lived here is in some way informed and anchored by it.  I can''t imagine not taking responsibility for gathering and keeping that record and so I must financially support that work."
- Mary Jaeger
All who register and attend our fundraiser via ZOOM will automatically be entered to win a gift basket filled with goodies from Geneva businesses, valued at over $1,000. The idea behind this gift basket is to provide much needed support to downtown Geneva.  Thank you, GHM Board of Directors, for donating the items in the basket. Gift basket includes a night stay at the Herrington Inn, gift cards from State Street Jewelers, Patten House, Niche Restaurant, Stockholms, Geneva Chamber of Commerce, The Little Traveler, The Olive Mill, Graham's Fine Chocolates, Harvey's Tales, Cocoon, The Beer Cellar, Ristorante Chianti, Flair on Third, Scentcerely Yours, and the Geneva History Museum.  Winner will be drawn LIVE at the end of the event. (Winner must be virtually present at the time of the drawing.)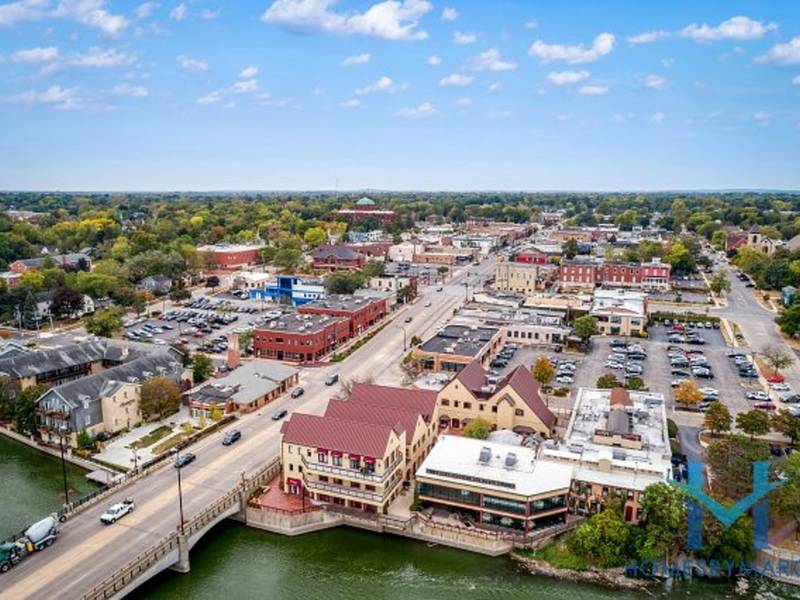 A big thank you to our sponsors who made this fun event possible!  We are grateful for all of your support.