Annual Geneva Giving Trees
The Geneva History Museum partners local nonprofit organizations with downtown Geneva businesses to decorate a Christmas tree each holiday season. This initiative helps raise funds for organizations that benefit local citizens and reminds us all that in Geneva, community comes first! 
VIEW OUR MAP so you can stroll through downtown Geneva and view the trees in person.
Cast your vote for your favorite Giving Tree at the Geneva History Museum, or use the VOTE HERE buttons below. Online votes must be made in $5 increments.
The winning organization keeps 100% of the funds pledged in support of their tree, while the remaining organizations split their winnings 50/50 with the Museum.
Voting ends at 4 p.m., January 1, 2024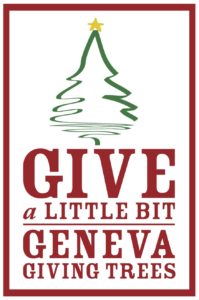 Altrusa International of Fox Valley Foundation
Location: State Street Jewelers, 230 West State Street
Altrusa is an international non-profit organization, making our communities better through leadership, partnership, and service. We have a focus on Literacy and Service projects unique to our community.  Our club members raise funds for our local foundation that provides the funds for our service.  From our foundation, we provide 2 and donations to many local service organizations, such as Hesed House, Mutual Ground, Lifespring, Literacy Volunteers Fox Valley, Big Rock Library, and several more.
American Legion Post 75
Location: Peaceful Parlour, 212 South Third Street
American Legion Post 75 Fox River-Geneva is a local veterans organization. The American Legion was founded on four pillars: Americanism, Children and Youth, National Security, and Veterans Affairs and Rehabilitation. AL Post 75 is one of Illinois oldest continuously operating Posts It celebrates 104 years of continuous active service in 2023 and is committed to the local community and its veterans. Post 75 supports many other local organizations and events, including Geneva Boy and Girl Scouts. AL Post 75 participates in rifle salutes, flag raising, funerals, and color presentations with its color guard and the Memorial Day parade and activities.

CASA Kane County
Location: US Bank, 808 West State Street
Advocating for the Voice of Children in Foster Care.
CASA (Court Appointed Special Advocates) Kane County is a Guardian ad Litem, nonprofit volunteer organization that advocates for the best interests of children in abuse and/or neglect cases within the Juvenile Court system. Relied upon by judges and most importantly, the children, CASAs are among the most respected volunteers and advocates in the community.

Elgin Youth Symphony Orchestra
Location: Nosh, 22 North Third Street
Elgin Youth Symphony Orchestras has a national reputation for providing not only an engaging musical experience for its students, but also a comprehensive learning environment which promotes curiosity, imagination, critical thinking, and collaboration. With six large ensembles, three small ensembles, and a thriving Chamber Music Institute, EYSO is nearly 400 musicians strong with students coming from 70 different communities across Illinois. 
Fabyan Villa Museum and Japanese Garden
Location: Harvey's Tales, 216 James Street
Located inside the Fabyan Forest Preserve, these historic sites reveal Colonel George and Nelle Fabyan's interests in art, culture, and scientific discovery. The Villa was designed by Frank Lloyd Wright and the estate was where modern code-breaking began. The Garden, installed in 1910, was a sanctuary for the Fabyans. Both sites are operated by Preservation Partners of the Fox Valley.
Fox Valley Hands of Hope
Location: Hey Sugar, 507 South Third Street
Fox Valley Hands of Hope (FVHH) is a 501(c)3 non-profit organization dedicated to providing expert support for children, youth, families, and adults who are experiencing grief from a death loss. There is no cost to receive any of our services. Services are available via Zoom, or in person at our Grief Hope Center in Geneva. We also partner with local districts to provide in-school services for students.
Geneva Academic Foundation
Location: Aurelio's Pizza, 330 West State Street
The Geneva Academic Foundation (GAF) provides educational experiences and opportunities through student scholarships and classroom grants for technology, programs, and equipment throughout Geneva Community School District 304, grades K-12.  The role of GAF in Geneva is to provide an ongoing bridge to academic enrichment for all students across all schools in the district. Funding is collected through donations and fundraising.
Geneva Garden Club
Location: The Little Traveler, 404 South Third Street
The Geneva Garden Club was founded in the fall of 1928 and is a member of the Garden Clubs of Illinois and the National Garden Clubs. In September 2023, the club celebrated its 95th birthday. This is quite an accomplishment, and throughout its existence its goals have remained the same: beautification of the community, preservation of our natural environment, and the promotion of horticultural education. The club and its members have undertaken many projects over the years to further these goals.
Kayla's Hope Foundation
Location: Flair on 3rd, 312 South Third Street
Kayla's Hope Foundation was founded in 2018 by the Lehmann family in loving memory of their beautiful daughter and sister, Kayla Brooke Lehmann. Our Mission is to help remove the negativity surrounding mental health while assisting those who struggle and offering hope to those who need it most.   It's OKAY to not be OKAY, BUT it is important to seek help and to feel comfortable doing so.  Since its inception, Kayla's Hope has granted nearly $85K to charities and scholarships.
Lazarus House
Location: Liz & Kate Boutique, 407 South Third Street, Suite 174
"All of us, at some time or another, need help. Whether we're giving or receiving help, each one of us has something valuable to bring to this world" - Fred Rogers.
At Lazarus House, we believe in "Neighbors Helping Neighbors." For our neighbors experiencing homelessness, Lazarus House provides safe shelter, nutritious meals and Case Management.
Marklund
Location: Deane's Market & Deli, 500 South Third Street, Suite 141
Marklund is a nonprofit organization founded in 1954 that provides residential, therapeutic and educational services to children and adults with profound developmental disabilities. With three residential locations in Geneva, Elgin and Bloomingdale, it is home to 178 residents. In addition, the Marklund Day School (in all 3 cities) provides special educational programs for students with multiple medical needs and those on the Autism Spectrum. Volunteers are welcome. 
Rising Lights Project
Location: The Little Traveler, 404 South Third Street
Rising Lights Project is a registered 501(3)(c) dedicated to creating environments for individuals impacted by disability to learn, laugh, thrive, and engage with the Fox Valley Community. Our goal is to encourage, educate, and empower so that people from all areas of our communities - neighbors to political leaders, business owners, and more - can clearly see the ability in disability and create new opportunities to keep those with disability engaged and connected.